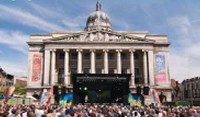 The Olympic Torch Relay Nottingham is here! If you're anything like the Exeid team, you've been eagerly waiting for the Olympic Torch Relay to pass through your city so you can see the legendary tradition on your doorstep. You can immerse yourself, in however small a part, in the excitement and pride that is embodied by the Olympic Games and get involved in the festivities it brings. It is estimated that 95% of the country's population will live within an hour of the Olympic Torch Relay Route, so everyone gets an opportunity to see the Olympic Torch and the Torch Bearers in action.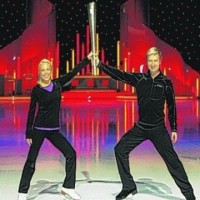 The Olympic Torch makes its way through Nottingham today and the Olympic Torch Relay Route stops along many of Nottingham's iconic landmarks. The torch has been on many outlandish modes of transport in the past from the lonely heights of outer space in Atlanta 1996 to the mysterious depths of the Great Barrier Reef in Sydney 2000 – for the Olympic Torch Relay Nottingham it will be whisked across the ice by none other than Nottingham's iconic Ice Skating duo Torvill and Dean, who have choreographed a routine to celebrate the Olympic Torch – I can guarantee that the reception will be anything but frosty! From 5.15pm to 7.30 Nottingham's Old Market Square will host a variety of spectacular performances across a variety of mediums. Featuring local and national talent from Acrobats to Actresses, the evening culminates in the hugely anticipated Follow the Lights Procession where over 100 performers will don carnival costumes and welcome the spirit of the Olympic Games to Nottingham City.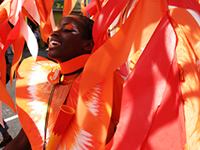 Exeid relish getting involved with community projects and as a result the Exeid Enterprise Centre St Nicholas Court will be opening its doors, in partnership with the Arts Council England, to provide space for the Torch Bearers and performers in
Nottingham's Olympic Torch Festival
to prepare and practice for the numerous activities and performances taking place across the city. St Nicholas Court is perfect for your event – should you need any space or an exhibition venue, don't hesitate to get in touch on 0115 8241444. The Olympic Torch Relay Nottingham – Local School Children practice their flag routine outside Exeid's St Nicholas Court and Stanford House.