The Queen arrives for the Diamond Jubilee Nottingham!
The Queen hasn't visited Nottingham since the Golden Jubilee, but this Wednesday, as part of Her Diamond Jubilee Tour, Elizabeth II will ingratiate us once again with her presence! Along with the nation's sweethearts, Kate and William, the royal party will arrive at The Diamond Jubilee Nottingham Celebration via Train Station at 10.05am and proceed by car through the streets of Nottingham towards the Old Market Square. Passing through Middle Pavement and Wheeler Gate, The Diamond Jubilee Nottingham procession will pass near by two Exeid office complexes,
20 Fletcher Gate
and
Stanford House
, so you will be sure to see us waving our flags out the window!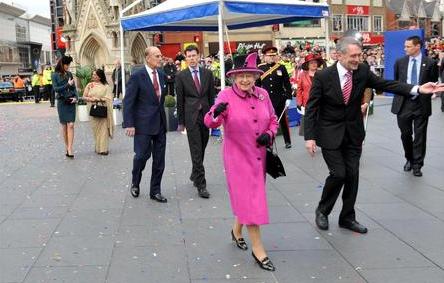 The Diamond Jubilee Nottingham Royal Party will head to Vernon Park in Basford for a Diamond Jubilee Nottingham Celebration and festivities in honour of Her Majesty. These will include sporting and musical performances by children from schools and groups around Nottingham and Derbyshire. See all the stunning photgraphs from the day, including some cracking shots of the Queen enjoying the show at Vernon Park! View the Diamond Jubilee Nottingham Celebration Gallery
HERE!