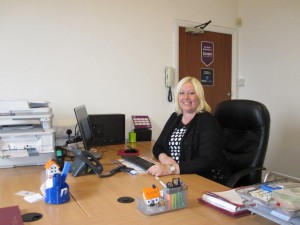 Donna Batchelor opened the doors of Batchelor Pads in Friar Gate, Derby after spending many years working for local agents, and deciding that she could offer a much higher level of customer service. We speak to her to find out the secrets of her success…
Tell us a bit about your background in your chosen industry?
I became an Estate Agent 20 years ago, in property sales, enjoying the fruits of a property boom on 2 occasions, then experiencing the incredible lows when the bottom dropped out of the housing market. I turned to Lettings 10 years ago, and spent most of that time working for local agents in Derby, but had a yearning to own my own Lettings company where customer service was at the heart, I felt utterly frustrated with the constraints of being `departmentalised` and felt I needed to see through a property Let from start to finish, and then to carry that on through the ongoing tenancy.
How did you come to set your company up? 
I left my last position in Derby in May 2011, then worked in Dundee Scotland for almost a year before starting Batchelor Pads, I wanted a year out away from Derby lettings to establish how I would want my company to look.
What does your company do? 
We offer a bespoke lettings service, so a landlord can choose how much or how little he wants us to do for him, some are completely fully managed , where others may just want us to find a tenant, or maybe takeover an existing tenancy and carry on with management in place. We use our very own `Traffic Light Matching` system, which enables us to make sure the right tenant is matched to the right type/priced property. This creates a secure tenure, with the Tenant and Landlord being comfortable with the Let. We also conduct the referencing, credit checks, and create the lease documents and a full photographic and written inventory.
What has been the biggest challenge in business you have found, and how did you overcome it?
The biggest challenge was getting our name out there, but we now find 90% of our business comes from referrals and recommendations.
What has been your biggest success in business and why?
Growth, without a doubt. We have grown every single month since we began, we have 100% landlord retention and zero rent arrears.
Why did you choose Friar Gate in Derby to set up your company?
With the support of Exeid and Howard Thomas [the landlord], we feel lucky to have such a good city centre location like Friar Gate. It's within walking distance to the centre of town and has parking facilities, so it made sense to be here. This is our second office in the No 32 Friar Gate and we can see ourselves being here for a long time to come.
What is the future for your company?
We have Let our first property in London, I have vast experience in remote property management, with excellent communication with the Landlord, and the correct selection of tenant, we can offer landlords in the Capital a massive saving on their finders` fees and monthly charges, we have trialled it and it works! With regards to our local landlords, we aim to carry on providing our personal service I also intend to add to our team this year, which will create more jobs for Derby.