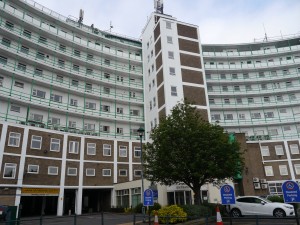 Exeid and
Rushcliffe Borough Council
are excited to announce that renovations of the Rushcliffe Technology and Enterprise Centre (RTEC) have officially started. Today, we ventured down to West Bridgford to take a first look at the skeleton of what will become a 12,000 sq.ft centre of excellence for developing businesses of all sizes. Donning fluorescent Exeid jackets, we entered the site with camera in hand, to capture the first moments of this project's new life. The interior which had made up the previous office had been ripped out, leaving the bare structure, upon which to build new serviced offices.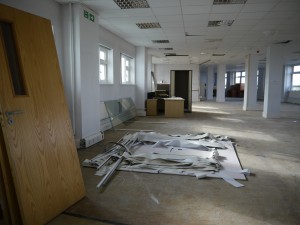 From first impression, it was easy to see that the space was long overdue for updating, with seventies office furniture all ready to be discarded, and pale pink paint on every wall. There is no doubt that the renovation works will completely transform the space. The top floor of office space is where visitors will enter, with an open, welcoming, reception area. Following through the outline of the hallway, there is ample capacity for many small to medium sized businesses. A range of offices will be provided from cute, 1 person office spaces (ideal for start-ups), through to large spaces for up to 60 people which would be great for rapidly expanding companies. The new space will include ultra modern glass front walls to create bright, crisp, and open areas, allowing natural light to filter in at any time of day. The bright and open space coupled with dramatic views over the River Trent as well as
Nottingham Trent Bridge Cricket Ground
and 
Nottingham Forest Ground
will shape an inspiring and ever-changing work area for any business.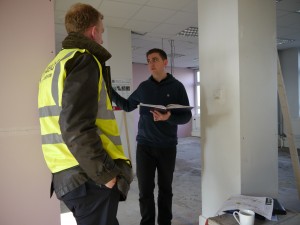 Walking around the area with Richard Priestley, Managing Director of Exeid, and meeting the Facilities Management team, it was clear that all involved in the redevelopment hold real passion to make this a success for the company and for Nottingham. "We'll have glass fronts on all the upstairs offices, and that will allow them to feel the space of the building, and then we'll open up all the lower floor for large companies, large enough to play football if they wish! We're going to update the old kitchen area, and ensure there's not a dull corner in sight,"  Richard continued "With the help of Rushcliffe Borough Council, we want to help make this the new hub for new businesses, expanding the focus out of the immediate Nottingham City Centre area, and presenting people withthe opportunity to build a successful business in West Bridgford."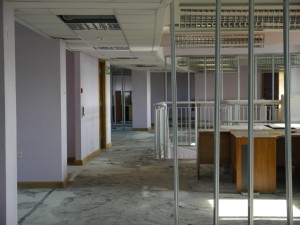 Work is to be completed in June, and the opening will be marked by a launch party, with over 200 guests, including influential speakers and entertainment. See all pictures of our journey and the development as it progresses on our
Pinterest
page. Join us on
Twitter
to get involved with the conversation and developments on Twitter, using #Going2RTEC and #RTECNotts!
Now Rushcliffe is
great for business
.