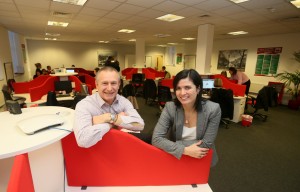 Exeid's
St Nicholas Court
is home to many thriving businesses one of which is Cherry professional who have recently moved in to brand new Exeid office space. We caught up with Katie from
Cherry Professional
 recruitment to find out a little more from these recruitment experts.
Katie, Who are Cherry Professional and what is the nature of the business?
Cherry Professional
Ltd are experts in the recruitment of Finance, Office Support and HR roles in the East Midlands. We have offices in Nottingham and Derby and a presence in Leicester. We recruit for permanent, contract and temporary positions across all levels. Our clients range from SME's to large well-known companies such as Boots, Vision Express, Games Workshop, Paul Smith and Capital One to mention a few. We have a team of expert and dedicated consultants who are talented, passionate and motivated. At Cherry Professional we put our clients and candidates at the heart of everything we do which is one of the reasons that we have been so successful to date.
Tell us about your journey in to the industry.
Cherry Professional
 recruitment started in the recession and has continued to grow and flourish. Our business is built on long term relationships based around honesty, accountability and the fact that we genuinely care.
The online world changes so quickly, how do you keep up to date with industry trends and cope with the ever evolving online marketplace?
We have to ensure we keep on top of Social Media and are constantly watching webinars to make sure we are making best use of those services on offer. LinkedIn has had the biggest effect in our industry but again is constantly changing and becoming a really effective tool to find great people.
What is your biggest success? How did you achieve it?
As a business our biggest success is growing from the three founding directors to an amazing team of 21 people in 6 years and being recognised for our professionalism and the relationships we have formed. We have managed to work with some of the most recognisable business in the East Midlands and are the preferred recruitment supplier to the likes of Experian, Vision Express and Boots.
What struggles have you encountered and how did you overcome them?
The business was set up amidst one of the toughest recessions the UK has seen however we managed to overcome the struggle by forming really strong relationships and working with businesses who really trust our recruitment service. We are currently going through a National Skills shortage so our biggest struggle currently is attracting top talent where we are reliant on our clients and candidates to refer us people looking for work who may not be actively posting themselves on job boards but are keen to hear about potential job roles.
Why did you choose St Nicholas Court as your home for Cherry Professional?
St Nicholas Court
is a perfect spot for
Cherry Professional
as it is centrally located for all of our clients and candidates to come and meet with us. Our offices are very impressive and we are extremely proud to welcome people in to meet with us here.
What plans do you have for the future?
Cherry Professional
currently operate across the East Midlands with teams in
Nottingham
, Derby and Leicester. We have this week taken on another
Exeid
office in
Derby
which is a great move for us and for our Derby team.
If you had to pick just one, what is your motto in business?
Our team ethos is Clarity, Honesty, Excellence, Respect, Relationships and You. We also firmly believe that we hold the candidates at the heart of everything we do which we believe sets us apart from our competition in what can be a very competitive industry. For more information on
Exeid
serviced offices contact us on 0115 824 1444 or
click here
to view more sites.