Exeid met with Interactive Whiteboard Technology experts
TecInteractive
to discuss cutting edge advancements in how people in business can interact with each other – and their clients. Tom Bamford, Director of TecInteractive, introduces a new tool that is revolutionising  business communication.

Who are TecInteractive, what is the nature of your business and product?
TecInteractive
are a growing,Derbybased technology company specialising in Interactive Whiteboard technology. Our business is focused on the supply of this cutting edge technology to those who are looking to develop their communication experiences to connect with clients on a greater level.
Tell us about your journey into the interactive technology industry.
Our Business is just over 6 years old and the two Directors formed a partnership while working for a previous company. We found we worked well together and have further discovered, through the running of
TecInteractive
, that we have complimentary skill sets that allow us to run the sales and installation departments of our Interactive White Board venture with acute efficiency.
What is your advice to those wanting to modernise their meeting room/training/education experiences?
Our market research and personal experiences have outlined the genuine need for this kind of interactive technology. A meeting room is often where the most key strategic business decisions are made and implemented, yet they are often poorly equipped. If you walk into a standard meeting room, you are, most often, met with a flip chart and/or non-interactive whiteboard, with tables and chairs. Even getting a projector set up can have time wasting, logistical difficulties. Given that most office-based professionals work almost exclusively on computers, in this day and age, a method of bringing state-of-the-art communication into the boardroom is extremely beneficial and logical.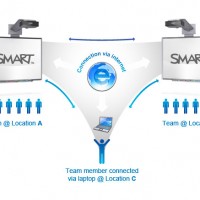 With
TecInteractive
SMART Boards, you can sync a number of laptops, tablets and desktops with the interactive white board, involving every meeting member – even those may be on the other side of the world.
TecInteractive
has made it possible for those are not even physically present to participate interactively, using the SMART Board. This is enabled through a number of the interactive white-boards capabilities; using a unique meeting room code, those away from the conference can sync with the board, edit the content remotely, appear on webcam or even run a presentation from their own computer. Once the meeting is done, everything that has been implemented can be emailed immediately to participants, so there's no need to make notes!
What is your biggest success with TecInteractive?
Our most exciting achievement and ongoing project  is the supply of Interactive Whiteboard technology to LOCOG (London Organising Committee of the Olympic and Paralympic Games) – which means we are part of the London 2012 Olympics! We have supplied and installed several  boards to them over the last 12 months, into both the transport and Games Ops departments at their prestigious headquarters in CanaryWharf. The views overLondonand the Olympic Park are stunning!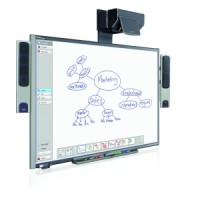 Other than that, the biggest success is simply building our company from scratch. It's our first company start-up and has been a demanding and bumpy ride over recent years. In spite of this, we have been able to expand and grow the business, reaching out to more people who would benefit from our services.
How have you overcome any struggles that you have faced?
The economic downturn affected many businesses, and
TecInteractive
had to adapt to the changing needs of a more financially sensitive, potential client base. Fortunately, we rose to the challenge, re-evaluated our business strategy and got really clear on our offering. The fact is that we can save companies £1000's on their travel budgets, as well as saving time and the environment through our SMART conferencing  software has meant that our business has continued to go from strength to strength.
How have you settled in at 32 Friar Gate, Exeid's serviced office complex in Derby?
We have settled in fantastically – our good-sized office has been built, by Exeid, to our exact specification and so is the perfect environment for our business to operate. We have full meeting room facilities and are located in a great area ofDerby–  the historic  professional quarter, Friargate.
Finally, what is the most important thing that has made TecInteractive what it is today?
At
TecInteractive,
we believe that our integrity, attention to detail and genuine enthusiasm for technology are the key to our success. We make sure every installation is done to the highest standard and that our ongoing customer service is second to none. We started
TecInteractive
to provide high quality business solutions and thanks to our unfailing commitment, we are able to continue in doing this, to this day.
Proving their commitment to oustanding customer service, TecInteractivealso have a series of instructional/demo videos to showcase the benefits of their SMART Technology.
Exeid's favourite is a case study on how 
TecInteractive 
have revolutionised training delivery for confectionary giants, Cadbury.
You can contact TecInteractive
HERE
You can contact Exeid
HERE
to find out more about 32 Friar Gate