Apollo Offshore Engineering
to their Nottingham Office Space, Stanford House on Castle Gate. We invited
Apollo
's Richard Bell in for a chat to learn more about what makes Apollo
THE
Engineering Consultancy of tomorrow.
Good Afternoon Richard, welcome to Nottingham! Tell us a bit about Apollo Offshore Engineering and the nature of your business.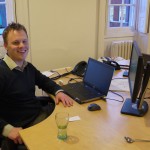 Apollo Offshore Engineering
are an independent engineering design and engineering analysis service company that allows our clients easy access to a highly skilled engineering capability within the oil and gas and renewable energy industries. We focus on high-end analysis and design engineering solutions, working with a wide variety of clients as their 'engineering partner'.  Our clients will come to us with a wide variety of engineering problems, confident that we will deliver a solution. As an example, we carry out flow assurance work for large oil and gas companies.  This involves making sure that the correct equipment is in place to extract, transport and separate the complex mixture of sand, sea water, oil and gas that flows from an oil reservoir.  This ensures these minerals are extracted in a safe, reliable and efficient manner. Another example is that our specialist services may be used in Health and Safety cases, in which we model gas releases and explosions on oil platforms to ensure personnel are adequately protected in the event of an explosion on an offshore platform.
Take us through your journey into the Oil and Gas industry.
The founders of
Apollo Offshore Engineering
worked together for years at a previous company and we came together to build a top class engineering consultancy. Companies providing safe, reliable and top quality engineering services have never been more in demand in the Oil and Gas and Renewables industries.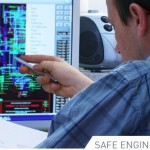 There's a general shortage of engineers in the Oil and Gas industry, but this is particularly the case in 'Oil cities' in the UK (e.g. Aberdeen and London). This makes it difficult to recruit people up there, so we decided to move down to Nottingham because the East Midlands is a hub of engineering activity – you've got Rolls Royce in Derby and Caterpillar in Leicester as well as Toyota, to name a few large firms. As well as being ideally located for businesses, it is also a fantastic city to live in – plus, it is only two hours from London or the North East, which are hubs for the Oil and Gas industry.
What plans do you have for the Nottingham Office?
The move to Nottingham is part of our Global business Plan – we are aiming to grow Apollo from 4 employees to 40, in 4 years. We have been established 18 months and already have 15 people working on our projects, so we are on track to meet our business goals.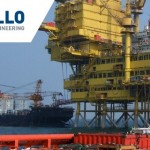 Oil reserves are depleting but I still think you can start a career in Oil and Gas, today, and work in this line until you retire. Producing oil and gas is only going to get more difficult and the technical challenges this presents are only going to get more complicated. The value of engineering expertise is going increase, as a result of this, and
Apollo
aim to be there to provide the necessary services – and world-class engineers. The quality of UK engineers is in demand around the world, so the future for the Oil and Gas industry looks bright, especially as much of our work is on over-seas contracts.
Finally, how have you settled in to your Nottingham Serviced office at Stanford House?
We really like it here – everyone is very friendly and Exeid have been very accommodating. Stanford House is the perfect environment for our business to thrive.
Thank you, Richard! Exeid wish Apollo Offshore Engineering the best of luck in all their ventures and hope they continue to take the Oil and Gas Industry by storm!
You can contact Apollo Offshore Engineering

HERE

You can contact Exeid

HERE

Exeid are thrilled to welcome