About Stuart Ross and the Growth Accelerator programme.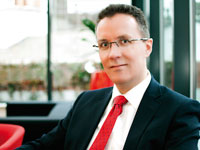 Stuart Ross
is founder of
High Growth and the High Growth Academy

.
Having both been part of and run many high growth organisations, Stuart is now focused on helping other businesses achieve and sustain high growth. Stuart has coached over 500 senior directors and has over 20 years business experience as a director and senior manager.
What is Growth Accelerator?
GrowthAccelerator is a new, premium service that will help England's brightest growing businesses achieve their ambitions with rapid, sustainable growth through coaching. Stuart is one of the few approved coaches in Nottingham to deliver the services
What will my business get out of Growth Accelerator?
 How can I grow sales more quickly? Where do I get funding? Where are the new ideas that will galvanise my business? These are questions all good business leaders ask on their way to even greater success. Through Growth Accelerator the answers and how to get you there will be defined Stuart will help you:  • Appreciate your true potential for growth and set achievable goals • Identify and overcome the barriers holding you back • Attract investment by developing your funding proposition and introducing you to funders • Stimulate product development, commercialise your innovation and motivate your employees • Energise your plans with one-to-one leadership and management advice • Meet peers who've tackled the same barriers as you • Connect with business experts and networks to achieve insight and build relationships
Eligibility
To be eligible, businesses need to be registered in England with fewer than 250 employees and a turnover of less than £40m. To find out more contact Stuart by phone 0115 9827694 or
email Stuart by clicking here