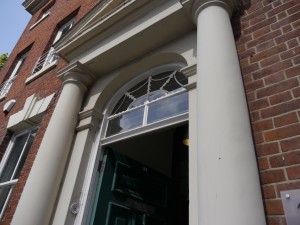 There has been a significant amount of press coverage regarding the Friar Gate Bridge recently. Reports have suggested that it's intended for renovations and restorations, other articles state it's likely to be left alone. What's the big deal about this bridge? Why is it special? At one time, 
Friar Gate Station
was the main rail station within Derby, and it served the commuting public between 1978 to 1964. The Friar Gate Bridge, which is seen easily from the Exeid 32 Friar Gate offices, is now the only reminders of the former station. The double, cast-iron bridge was made for the Great Northern Railway by Andrew Handyside around 1876. If you were to catch a train Eastbound from the Friar Gate station, you would travel through Darley Park, Breadsall, West Hallam and onto Nottingham via the Bennerley Viaduct. Westbound, the line connected with the Derby to Stoke line at Eggington Junction. This year sees the 50
th
year of closure, and ultimately, disuse of the Friar Gate Bridge. Yet some parts of the former Friar Gate station and it's platforms are still evident. The Friar Gate Bridge remains a thing of beauty, and is surrounded by a thriving hub of businesses located in the area. Indeed, in our own property, "32 Friar Gate", businesses are thriving and expanding. It is a wise choice and beautiful location for business. Happily, back in 2007, many members of the public and people with local businesses nearby Friar Gate Bridge noticed the poor state of maintenance of the bridge and decided to take action to work toward its restoration. The complaints sparked much publicity in regional media regarding the issue, and as as a result, an online petition was set up for people to show their support for encouraging the council to restore the bridge. The Friar Gate Bridge was sold by British Rail to Derby City Council in the 1960s, and the transaction was carried out on the promise that the bridge should be maintained in good condition in perpetuity. Now, the future of this historic landmark is uncertain, but there have been hopes to restore it further and English Heritage are backing the plans. As "32 Friar Gate" is located right next door to the Friar Gate Bridge, we simply had to include it in our recent snaps of our locations. The Bridge is definitely an iconic landmark amongst the thriving bustle of high-quality restaurants, coffee shops, SMEs, large businesses in a range of sectors. We currently have beautiful, modern offices available in
32 Friar Gate
. Whether you're a new company interested in hot-desking, looking to expand with serviced offices or simply looking to relocate to a highly desirable area, contact us! View the pictures
here
, give us a call on 0115 824 1444,
tweet at us
, or
email us
.