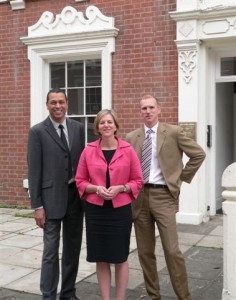 Nottingham now has two new MPs and two new constituency offices. Exeid.com, the boutique property services consultancy, has been working with Lilian Greenwood and Chris Leslie to find them a new location for their constituency offices.
David Ajose,
CEO, said "the brief was difficult at first due to the new regulations laid down by
IPSA
(Independent Parliamentary Standards Authority). However, our MD, Richard Priestley, identified a vacant site on Regent Street that fitted their requirements exactly.
Exeid.com
offers a range of property services from traditional leases through to the setting up of unusual licence agreements and serviced office space. As part of the brief, Lilian and Chris needed to have a more flexible lease due to their positions as Members of Parliament. Richard Priestley said that the Exeid service allows landlords to generate immediate cash flow without lengthy "rent free periods" and tenants benefit if they need immediate occupation. Richard explained that "Deals can be turned around in a matter of days, rather than the lengthy negotiation processes that usually come with traditional leases." Lilian Greenwood, MP for Nottingham South, said "We are delighted with our new office, which is within easy reach of the city centre. The service we have received from Exeid was excellent."