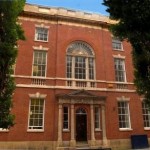 Independent Commercial Property Practice,
Innes England
, held an enlightening Market Insight Event at the Nottingham Conference Centre earlier this morning. Talks from Managing Director Robert Hartley, Director Craig Straw and Retail Director Matthew Hannah gave us valuable insight into how Innes England predicts the property trends, in each commercial sector, will look in 2012. With guest speakers Alistair Cunning of the Bank of England and Nottingham Post's Steve Hollingsworth, the event was buzzing with interesting, industry information. The influence of the current economic downturn was largely focused on in all areas of the 2011 assessment and all Speakers, though informative, generally tried their best to put a positive spin on what are negative or, at best, stagnant results from most areas.
The Office Market
This isn't to say that there aren't small triumphs here and there – in Nottingham, the Office Market remained relatively stable, with office space take-up at around 550,000 sq ft. This is broadly in line with the previous year's figures and above the 10-year average for third successive year. 80% of take-up were properties that are
under
10,000 sq ft, indicating a shift of focus from large, A Grade building acquisition to existing, smaller, good quality spaces.
The Retail Sector
There are exciting developments in the East Midland's Retail Sector, as Capital Shopping Centres purchase the Broadmarsh Shopping Centre in Nottingham for just over £73million. As CSC already own Nottingham's Victoria Centre, they should have a good understanding of how to enhance the existing retailers and tailor the renovation to Nottingham's needs. Retail giants Apple and Hollister are also expected to commit to the revitalised Shopping Centre. Large retailers such as Debenhams, JJB Sports and Next have all made a an increase of over 4% for 2011, but we've all heard about the plight of High Street Lingerie chain La Senza descending into administration, before being rescued by Kuwaiti firm Alshaya. The silver lining to their cloud is that Alshaya are keeping 60 stores, including those in Derby, Leicester and Nottingham.
The widening of the A453
and
Nottingham's Tram Extension
to Clifton and Beeston will greatly improve access in the East Midlands, and is expected to boost the local economy by £390million per year.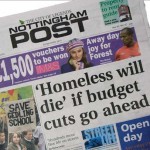 Nottingham Post
The spotlight was on local business and marketing when Nottingham Post's Steve Hollingsworth took to the podium. The re-design of the Nottingham Post featured heavily, with a shift towards bright and eye-catching typography and graphics. The inclusion of their lifestyle supplement, available at the weekend, will help boost awareness of local brands and business. Hollingsworth also surprised the room when he revealed that more papers were sold in 2011 than any other year in history, despite the continuing explosion of Social Media and web-based news sharing. It looks like the printed page will be around for a long time, yet! On the subject of retail marketing, here is a video of the Hollister store on 5
th
Avenue in New York – the shop front is adorned with screens showing surfers on the California coast. Will we start seeing this kind of innovative marketing on the UK Commercial Property market? All in all,
Innes England
delivered an interesting and informative series of talks which may seem like they are delivering bad news – but if you examine the results a little closer, the Office Market looks to be in good shape and the East Midlands looks set to succeed in 2012 – this is excellent news for both Exeid.com and their clients! Don't forget, you can find Exeid on
Twitter
,
Facebook
and
Linked In
!