Work is now finally underway in Nottingham for the UK's newest Shopping and leisure entertainment complex.
The New Broadmarsh will open up streets previously demolished and blocked off by an ill thought out 1970's shopping centre, to do this, a £250 million programme of works is underway to transform the area into a great entrance into the south of the city centre with improved shopping, leisure and restaurant facilities in a vibrant new environment. The development hopes to attract many new retailers and leisure operators and will provide a gateway to the southern area of the city centre linking the Station with the heart of the city and works and are expected to complete in mid-2020.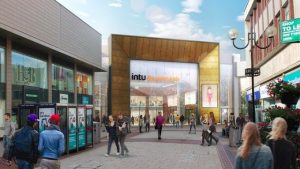 Exeid's city centre offices in Castlegate are near the Lister gate entrance and the Fletcher gate offices are near the Bridlesmith Walk entrance to the new shopping centre You can take a look at the idea for the new centre which opens soon below…..
Download an information leaflet showcasing all of the benefits of the project.