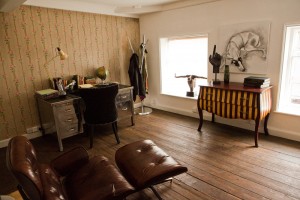 Think vintage style and you think of character, bygone beauty and nostalgic elegance. But what could vintage style bring to a business office space? It was this question that led David Ajose, CEO of boutique commercial property consultancy,
Exeid
to launch the company's innovative vintage office service at Nottingham's historic
Stanford House
. The launch was brought to life with a photo-shoot created through the collaboration of local entrepreneurs and creatives.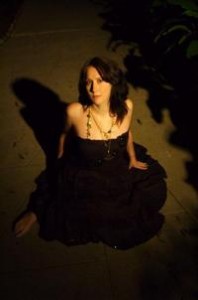 On Set at Stanford House
On set at the shoot in late July, production designer
Blair Barnette
has created a stunning vintage office space, bringing together stylish pieces from
Nash Interiors
. This is a business office space like no other. On the day of the shoot, David Ajose explains the inspiration behind the vintage-styled office spaces: "The catalyst came from recent research which informed us that there were no operators providing vintage or retro office space. Most people were providing the usual blue carpet tiles and suspended ceilings, yet virtually every movie and current style magazine features vintage images. This is what people are buying into in their lifestyles – so why isn't it provided in the spaces they're working in 8-10 hours a day?" The elegant offices at Georgian-era Stanford House will combine functionality and advanced technology with effortless vintage design. Stephanie Murphy, PR officer for the shoot and founder of
Hummingbird PR
, comments: "I often think that to be inspired to think creatively, you need to be in a creative environment."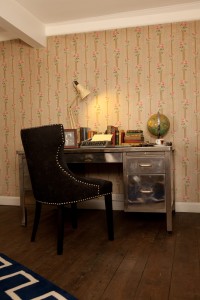 Putting the Style into Office Space
So how did the gorgeous look of the promotional shoot come about? There's a reason it looks good enough to be the setting for a sumptuous period film or TV drama. It was created by
Blair Barnette
, a production designer with many years' experience in TV and film. Blair explains that her aim was for the set to combine both vintage and business: "This is a space for modern clients so I felt it was important to keep the balance. The look must suit technology and the way we're doing business now." Blair worked with Matt Wells, an established art director. Prior to the
Exeid
shoot, the two have worked together for MTV, Nickelodeon, BBC and for Midlands-based feature films such as Control and Bunny and the Bull. The two sourced the distinctive furniture and other pieces for the shoot from Nottingham's
Nash Interiors
.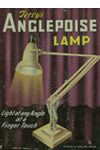 If you look closely youll notice  the amazing vintage lamps  provided by
Anglepoise the iconic British lighting designers
A Vision for Vintage
The vital role of capturing the vision for Exeid's vintage office service was taken on by
Paul Larkins
, a photographer who has worked for Adidas and Nike as well as local brands. For Paul, working on set for this project was a great opportunity to do and support something rather different.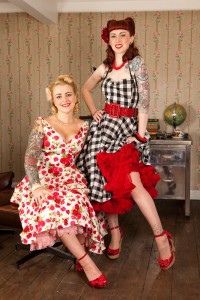 Creating that something different for the shoot also involved featuring models to bring out the best in the nostalgically-styled office set. One of the models for the day was
Scarlett Daggers
, who, when she isn't performing Burlesque or running her handmade accessories business, is an alternative model. For her, the vintage office is "a lovely concept and much better than a bland office space." The second model was
Aislinn Ball
, who started the day in her role as dress designer for the shoot and ended up modelling her own clothes! When she's not working as an interior designer (or as an impromptu model), Aislinn runs a business creating bespoke dresses inspired by 40s and 50s fashion. She comments: "This new type of office space seems ideal for when a person wants to provide a relaxed atmosphere for employees or clients."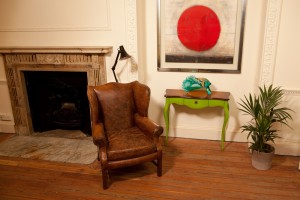 Creating an Atmosphere
One of the two-person team making sure that the models more than met the vintage brief for the day was hair stylist
Elizabeth Peat
. As a clear reflection of the growing popularity of all things vintage, Elizabeth is in great demand, providing 40s and 50s style hairdos for photo-shoots and special events. In her view, the new office idea is a winner. Like Elizabeth, Sali Jones the makeup artist for the shoot (and founder of
MsMooMakeup
and one half of vintage and retro styling team Flashes+Lashes) is also seeing a great deal of interest in the vintage look. To Sali, a nostalgic-style office is an exciting alternative: "It's a beautiful building and concept." For
David Ajose
, as CEO of Exeid and creator of the
vintage office space
, the shoot marks the launch of something very special: "We're very excited to respond to the growing passion for all things vintage and retro – and to be able to bring something new to Nottingham." Blog post interviews and content by Camilla Zajac,
Green Light Copywriting
, July 2011
For a more contemporary twist on office interiors check out this space you'll love it!