Here at Exeid we like to showcase the clients we have and keep you updated on new and existing clients that are joining the Exeid Group.
Clicky joined Exeid back in 2016 after creating a bespoke office and we recently sat down with them to have a catch up and to tell us more about their business operations……
Why did you choose Exeid for you Office Space?
Duncan McKeown from Exeid quickly understood our requirements and found a solution that met our needs. The services provided by Exeid and quick response times have ensured our constant satisfaction. Exeid's willingness to tailor their support and proactive nature are valued
We create digital experiences that deliver results.
An award-winning team of 50 honest, experienced, creative digital perfectionists with offices in Chester, London and Nottingham.
99% of everything we do is produced in-house.  
Websites –

Elegant, handcrafted, performance-focused and fully-responsive, built in-house by our amazing team, driven by creative innovation and intelligent insight
Digital Marketing –

Award winning digital marketing campaigns, designed, deployed and managed in-house by our team of Google qualified experts
Branding –

Memorable, clean and effective, we build a brand that's right for your business
ProSupport –

Monthly access to our award winning team of web designers & developers, who manage the ongoing progression and evolution of your website
Video –

A strategic approach to video; we focus on purpose and value added video creation
Consultancy –

Work with our highly experienced senior team to achieve next-level growth
Discovery –

Helping you to understand your market, audience, company position and goals to influence a more informed and intelligent strategic approach
CRO –

Our CRO specialists utilise comprehensive data analysis and tailor the approach to your individual goals, audiences and requirements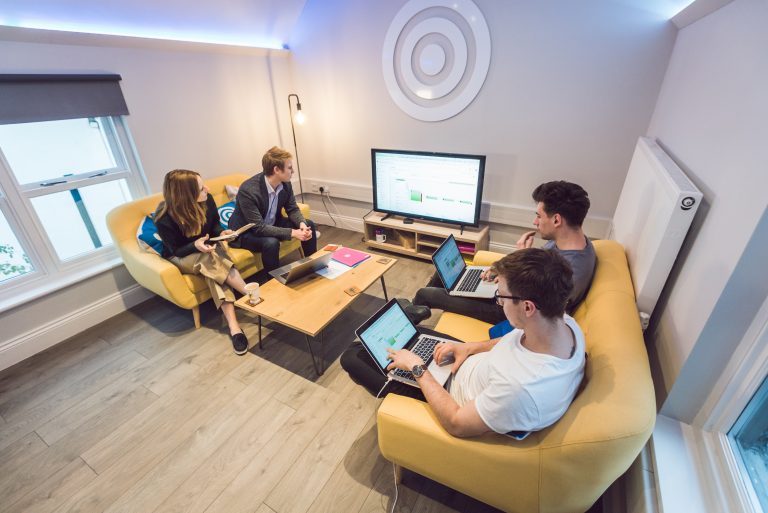 Oliver Yeates (CEO & Founder) launched Clicky from his bedroom 11 years ago. With a degree in Business and Computer Science and a passion for the internet, Oli gained experience in marketing disciplines and transformed Clicky into the award winning business it is today.
Sam Gadsby (MD) joined Clicky 10 years ago as Clicky's first employee, initially starting as an Online Marketing Assistant, moving through the ranks from digital campaign and management, to developing, retaining and building Clicky's diverse client base and innovative service offering.
Achieving continued, annual, year-on-year growth above 25% every year without fail, with no external investment or lending.
We have been focusing our efforts on developing our newest Clicky office as we seek to amplify our presence in the heart of Nottingham.
A love of data, combined with ambitiously high expectations, ensures client results come first

Integrity remains at the core of our interactions; we take pride in getting to know our clients

We are adventurous with our creativity and innovation as we go beyond briefs, challenge the norm and push boundaries for our clients' websites and marketing strategies