Here at Exeid, we are privileged to be the custodians of several notable buildings that feature in Nottingham's local history. Given the significance of these buildings (as well as their excellent facilities and location for office space), we have decided to share some information on each of our buildings in a way we hope you will find both interesting and informative.
Several of the buildings we manage in Nottingham are at adjacent addresses on Castle Gate, so it seems fitting to begin with some history of this ancient street and its long connection with Nottingham's history. Located deep in the heart of Nottingham's city centre, Castle Gate is a quiet, low-traffic area just a short walk from the shops, restaurants, and transport links around St Peters Square and Old Market Square. Castle Gate also has the notable privilege of being one of the older areas of settlement of what we now call the City of Nottingham.
The settlements of modern Nottingham were founded circa 600 BC by an Anglian tribe named the Snotingas, from which ultimately the name Nottingham is derived. These earliest settlements were based around St Mary's Hill in what we now call the Lace Market area. Early Nottingham was therefore predominately Anglo-Saxon until the arrival of the Norman Invasion in 1066, when many Norman soldiers settled around Castle Rock rather than return south.
For administrative purposes, Nottingham was divided into a French borough to the west and an Anglo-Saxon borough to the east, with a unified marketplace being located at what is now known as Old Market Square. It was in this French borough that the first Nottingham Castle was built in 1067 and the parishes of St Peters Church and St Nicholas were created around the end of the 11th century. It was during this era from which Castle Gate's original name of 'Frenchgate' was derived, given its location in the French borough as seen on the below map from circa 1500 AD.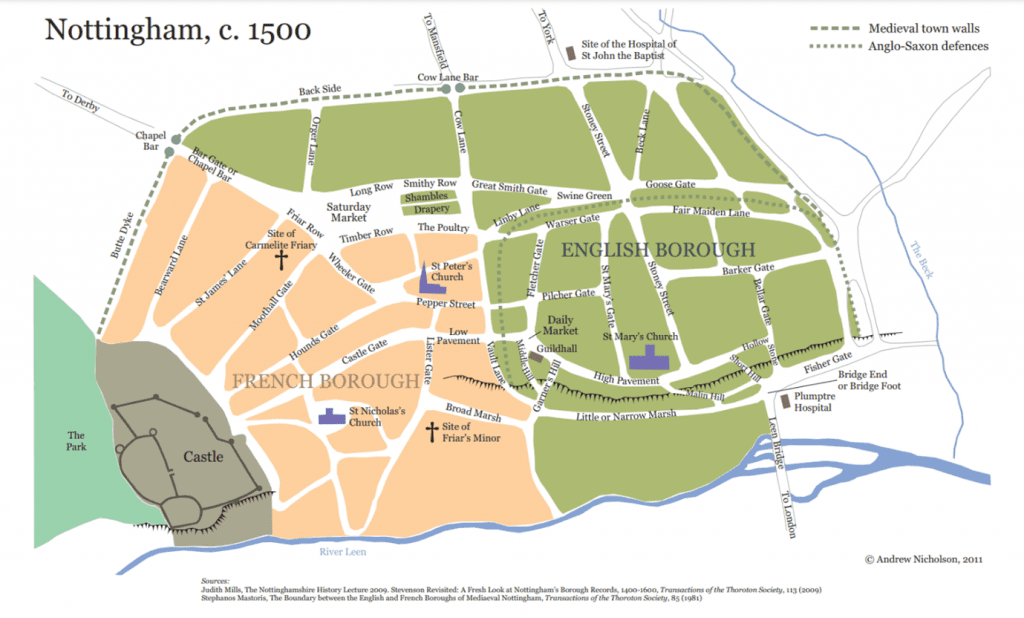 (Map source: Nottinghamshire Heritage Gateway)
Around the marketplace area became the most desirable location for shops, which meant that streets such as Castle Gate began to develop into residential areas for wealthy landowners and merchants. One such building at 19 Castle Gate – known today as Stanford House – has gone through a wide number of rebuilds and iterations and was once the dwelling of William Stanford, who at one point was one of the wealthiest lace merchants in Nottingham during the late 18th century. Stanford House makes up one of Exeid's oldest and most historic buildings in its portfolio of serviced offices in Nottingham, and greater detail will be addressed to this building in a later post. Other buildings of note on Castle Gate include Newdigate House – one of the few surviving 17th century houses in the Castle Gate area – and St Nicholas Church, from whose tower in an earlier incarnation of the building the Royalist Army bombarded the garrison of Nottingham Castle during the English civil War in the mid-1600s.
In future blog posts, we will go into more detail about individual details of buildings on Castle Gate under the Exeid banner. Meanwhile, should you wish to locate your business in such a historic (and convenient) area of Nottingham, our sales team are ready to provide information on our current availabilities.