Well firstly, if you're looking for a new office then it is likely due to one of the following reasons:
You're a new business looking for your first premises
Your business is growing and you need to move out of your home office or smaller office space.
You're unhappy with your current office and want somewhere new
Looking for a new office can be a somewhat overwhelming task. You might find yourself looking at a lot of square, grey rooms inside dreary office blocks. Leaving you uninspired and struggling to decode contracts, leaseholds and sqft costings.
What is a traditional leased (un-serviced) office?
Leased office space involves renting directly from a building's landlord on a price per square foot, per annum basis. It usually requires the leaser to sign a contract of between three to ten years and a substantial deposit.
Businesses who take out a leased office are then in complete control of the appearance, configuration and working practices of their space.
Pro's

Longer leases mean businesses will be able to predict their requirements over the longer term.
Businesses who want full control over the branding of their space will be able to strengthen their brand identity.

The possibility of lower long-term costs and overheads.
For businesses that can commit to longer terms, a conventional lease can work really well.
Businesses are fully in control of the premises allowing the freedom to evolve and diversify.

Con's

Finalising a contract takes much longer than a serviced office.
Substantial cost to furnish and implement communication infrastructure.
Capital expenditure for reinstatement at lease end (dilapidations).
Staff required for building management i.e. receptionist.
Responsibility for office service charges, business rates and utilities.
The commitment to a longer lease requires an accurate profit forecast growth.
For newly established businesses, a substantial deposit is usually required to offset the default risk.
What is a serviced office?
A serviced office is a simplified and easy solution to what was once a long laborious and expensive move. Instead, it is simply handled handled by a management company/office provider.
The office provider is responsible for all of the behind the scenes expenditure such as furniture, utilities, furniture, maintenance, compliance and much more.
The monthly cost is inclusive of absolutely everything, so there are no unexpected bills to catch you out.
Pro's

Low initial costs and fast sign-up.
Flexible terms dependant upon the needs of your business.
Fully furnished with communication infrastructure in place, which allows you to get started immediately.
Plug-in and go.
Your new office can be built around your business. Quite literally. We work very closely with our clients prior to occupying their space to decide even the minutest of details and configure, build and decorate to accommodate you and your business and make sure you feel welcomed and homely on your moving day.
Hassle-free management of utilities, cleaning visitors etc.
A simple, single price cost. No extra bills or charges
The opportunity to network with other businesses in the building and utilise break-out areas and meeting rooms.

A ready-made interesting and bustling working environment with facilities such as co-working and break-out areas.

Con's

There aren't as many opportunities to pay a lower rate for a long-term lease – you may be paying unnecessarily for flexibility which you don't need.
Kitchen areas and bathrooms can be shared with other businesses on your floor/building. This can be great for networking and socialising but doesn't offer much in the way of privacy outside of your working area.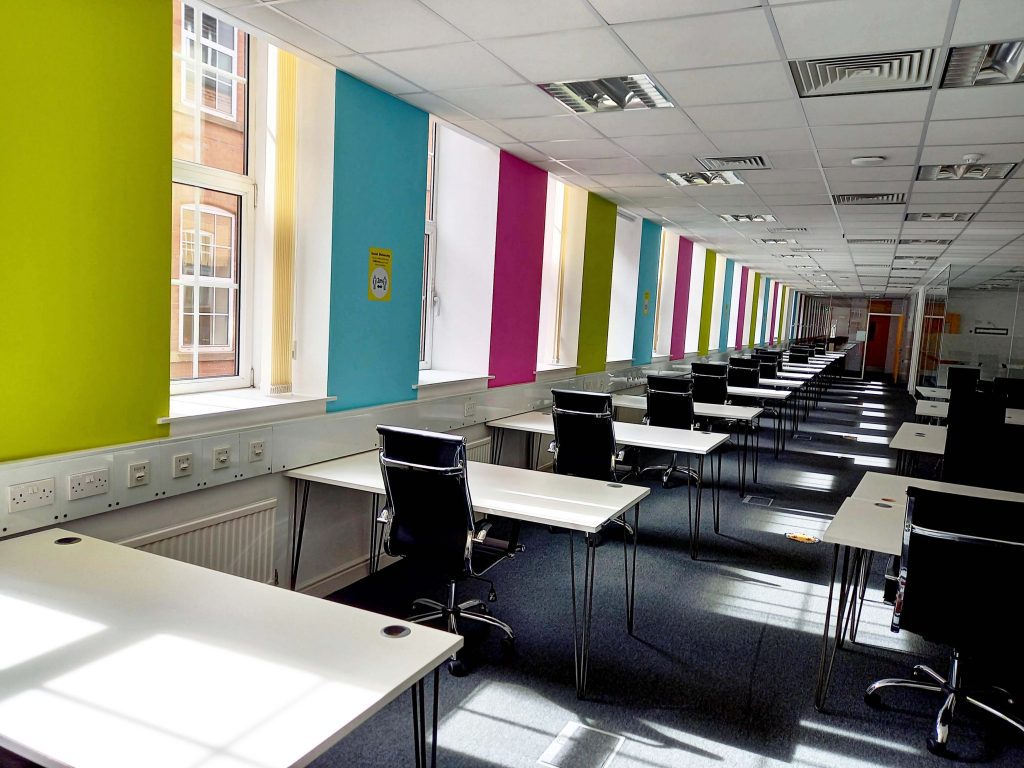 How much do Leased and Serviced Offices cost?
The costs of renting offices vary enormously for different areas of the country and will depend on the space and amenities.
The costs can be broken down into price per sqft or by the number of workstations required.
In 2018 the average monthly cost in the North of England was £300-£400 per workstation.
If you compare the costs, priced per square foot, leased office space will be slightly cheaper than serviced offices. However, these costs do not include many of the hidden costs associated with conventional offices.
Aside from the huge initial cost of furnishings and fit-out and IT and telephone infrastructure, leased offices can have hefty monthly bills. Utilities such as wifi, telephone lines and water, electricity and gas are all payable as extras. Upon signing a contract you will also need to pay fees for a solicitor and a commercial agent.
A serviced office will certainly appear more expensive at first glance. Simply because it is priced per desk per month, rather than per square foot. However, it's important to remember that this price is fully inclusive of most costs associated with the office.
And aside from a deposit, there are no upfront fees.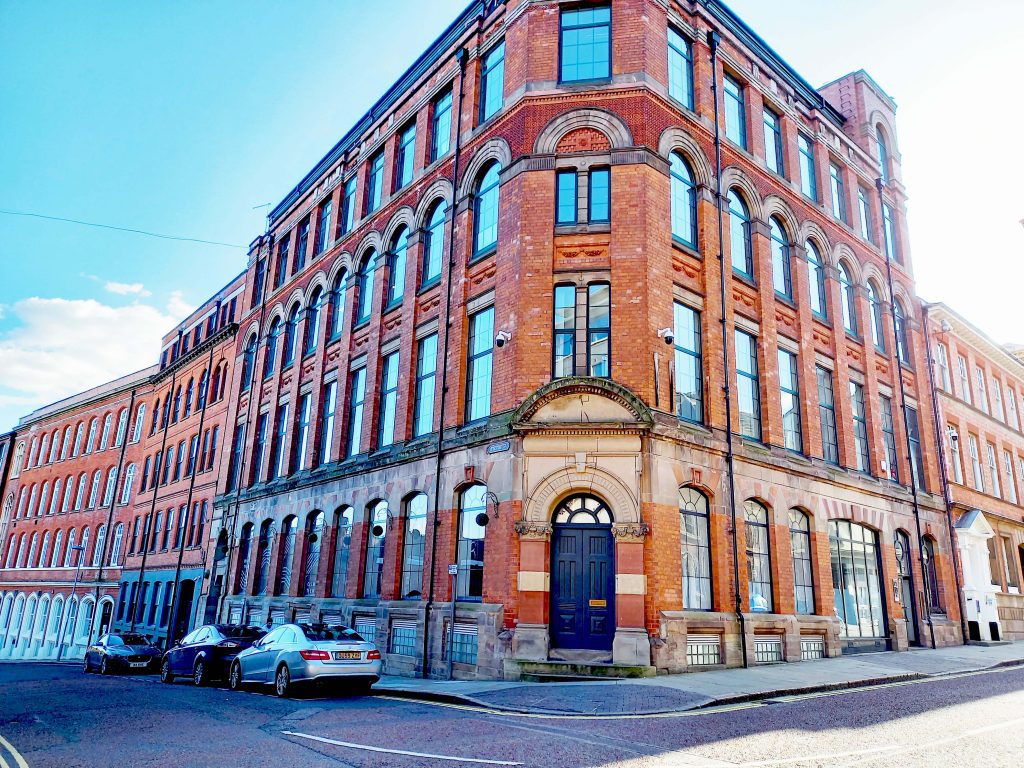 Not only do serviced offices usually work-out to be the cheapest option, but they also offer so much more than just office space.
Therefore, many businesses in serviced offices really benefit from the ability to work alongside and network with many others. This often brings about a collaborative style of working, encouraging networking and business partnerships.
Serviced office providers like Exeid really pride themselves on creating spaces that businesses can call home.
Spaces like Merchants Court really allow businesses to flourish and expand in a community that grows together. The right workspace will help you attract the right clients and create lasting business partnerships. Both of these things are crucial in allowing your business to develop and grow.
If a serviced office at Merchants Court sounds perfect for you, get in touch with our friendly team.
With thriving centres in Nottingham, Leicester, Derby, Stratford, Marlow & Norwich, now is the perfect time to become a part of the community.
To find out how you can be part of our growing network of Exeid business centres, contact us today.